Sri Krishna and Goverdhan Lila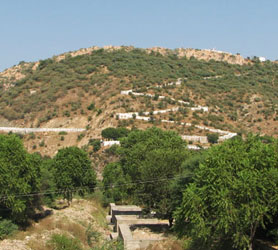 Significance of Sri Krishna and Goverdhan Lila
Lord Sri Krishna has expressed by several lilas that divine protects his devotees. The bond of love a devotee shares with the divine is the flame of faith that all his pain sufferings, deeds and smiles are not hidden from god. In older times everybody use to perform yajnas.The villagers of braj use to perform special prayers and yajnas in the honor of lord Indra, the god of rain. Lord Krishna felt that these prayers were boosting the pride of lord Indra because of which Indra believed that he ruled the trinity. Lord Krishna is too kind he believes vanity is every creature's worst enemy and cause of its destruction. To save Indra lord Krishna asked the villagers, and Nandbaba his father and mother Yoshada to offer these prayers to Mount Goverdhan rather than lord Indra. He told everyone that lord Indra was just a chief god, whereas the Mount Goverdhan had various assets to heal and protect which would benefit the villagers. Thus we all should pay our gratitude to the holy mount by offering prayers. They agreed to lord Krishna and did accordingly. Special yajnas were performed and Chhappan bhog was offered to lord Goverdhan. ' Lord Goverdhan' is Lord Krishna's replica and the chappan bhog offered by villagers became famous as 'Annakoot'; lord Krishna himself accepted all the bhog by his several hands by appearing before them in the form of lord Goverdhan. On seeing the villagers ignorance Indra filled with anger decided to destroy all of braj. He ordered the wind, thunder and rain to use their evil powers to uproot the entire village. Villagers ran here and there crying for help in pain and screams as they began to drown. Sri Krishna advised all the villagers to run to Mount Goverdhan. It was then that Sri Radha blessed Sri Krishna with immense power; to which Sri Krishna lifted the Mount Goverdhan on his only little finger for seven long days. He asked all the villagers to be fearless and come under the shade of the mountain along with their belongings, family and animals. Every single soul was safe and sound under the magical power of Shri Krishna. After seven days when every slave of lord Indra got tired and their powers got perished, his vanity of being powerful perished like dust. Lord Indra went to his guru sage Vashisht for wisdom. Here sage Vashisht explained him that vanity is every creature's worst enemy and in his pride he challenged the trinity himself. To save you from destruction lord Krishna asked the villagers to pray to Mount Goverdhan in your place. Thus proving that He is the protector of this universe no evil has the power to go against His wishes.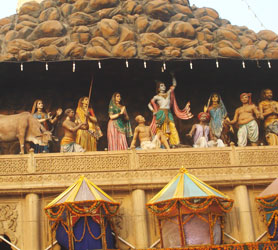 Location of Goverdhan:
Goverdhan a tehsil, in Mathura district in state of Uttar Pradesh.
In mordern day India it is 26 km from Mathura and the hillock measures 7 miles in length. The town is on the road link between Mathura and Deeg. The beautiful Kusum Sarovar temple also the main attraction and enhances the beauty of this divine sacred hill. Sacred Temples like
Daan Ghaati Temple,
Radha Kund Temple,
Mansi Ganga Temple,
Giriraj Temple
Are also very famous and major visits by devotees who perform Parikrama.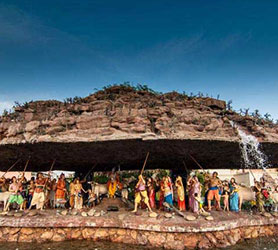 Occassions in Goverdhan
Govardhan Parikrama is the most renowned occasion specially on Poornima, Akshaya Tritiya, Guru Purnima, Purusottam mas, Akshaya Navami, Diwali, Govardhan and Janmashtami many other festivals over half a million people go around the sacred hill on bared feet chanting the sacred name of Sri Radhakrishna. When you go along with many devotees, you do not feel tired.
You can see people in various ways of performing parikrama which is done to for fulfilling wishes.
There are places on the way you can take rest, eat food, and visit temples like Poonchri ka Lotha, Mansi Ganga, and Giriraj Temple.
The Bond of Innocence and Love
The span of time when lord Krishna held the Goverdhan on his little finger all the Braj villagers tried to help Lord Krishna to lift the Goverdhan with their sticks. This expressed that their strong love for Lord Krishna who was a pal and son to them. On doing this action every villager shouted that not only he was holding the mount, they along with him were holding the mount to help Him. Their innocence and bond of love made Shri Krishna smile and shower His blessings on them.