Varsana or Barsana - The Land Of Sri Radha Rani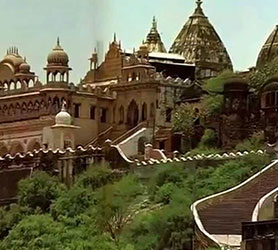 Significance of Barsana
Barsana the holy land of Sri Radha Rani that emits its glow and beauty with its colors on festivals and marks the birth of Sri Krishna's beloved.Barsana the most fascinated place where every corner is beautifully blended with childhood lilas of Sri Radha Rani the daughter of Sri Vrishbhanu and mata Kirti.Varsana or Barsana is chiefly a place of Sri Radha Krishna's love temples. Temples like Ladliji's Temple and Pila Pokhra are the most Divine and favourite tourist attractions.This beautiful place is 124kms from Delhi and 58.9kms from Vrindavan. It lies 21km north of Goverdhan on slope of a ridge and was previously known as 'Brahmasarin'. It is well surrounded by hills from all the four sides depicting the four headed Brahma and beholds the Divine temple of Ladliji at its peak as the crowning glory.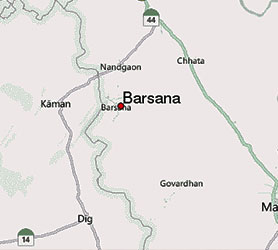 LOCATION OF BARSANA
Situated in the state of Uttar Pradesh; Barsana or Varsana is around 124 km south of Delhi. The place is just 58.9 km off Vrindavan, being a land of love, peace and serenity. It is well connected by means of road, air and railway. It extends latitude 27°39¢ in the North to longitude 77°23¢ in the East.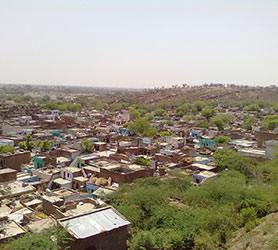 CLIMATE OF BARSANA:
Barsana experiences an extreme climate. The maximum temperature during the summer reaches a high of around 45°C and winters can reach a low of 4°C. Torrential rains come across in the month of July and continue till September. October-March is the appreciated period to visit Barsana, specially the during the Holi Festival.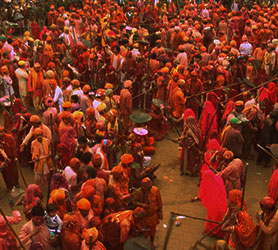 OCCASIONS IN BARSANA:
The devotion involved in the celebrations take a devotee from this physical world to the heavenly domicile. Radhashtami in the months of July/August is celebrated as the birthday of Radha Rani and thousands of devotees throng vrindavan from all over the country. The highly famous Lathmaar Holi of Barsana in the months of February/March is a beautiful depiction of the unique bond of love and mischief between Sri Radha Rani and Her sakhis with Sri Krishna. Braj Holi songs are sung on this day and women beat up men with sticks or lathis to celebrate Holi Festival in a very uncommon but flavored way. On First day of Holi villagers of Nandgaon come to Barsana to play Holi with a ceremony at the Radha Rani Temple, the second day its vice versa Gops from Barsana go to Nandgaon to play the same.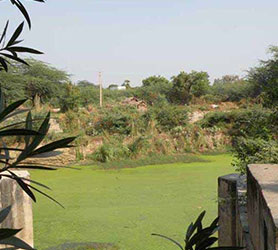 ROUTES TO BARSANA:
By Air: There are two air route destinations in order to reach Barsana easily. One is the Agra airport which is approximately 102 km away from Barsana. Second is the international airport at Delhi, which is connected to almost every important city in the world with major airlines and is around 111km away from Barsana.
By Rail :Mathura on the Delhi-Chennai and Delhi-Mumbai main line is the main railway station near Barsana. A route by road is to be taken to the down town of Barsana hence forth.
By Road: Barsana bears a direct road link from Delhi to Agra; It is connected by Mathura by road and is at a 45km distance. It is also connected via buses to Mathura as well as these cities. Various tourist vehicles, taxis and mini buses are also available for a trip to this town.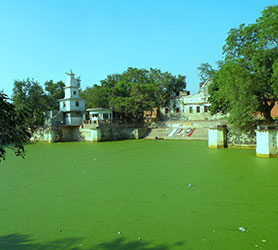 Places and Religious Locations of Barsana
Ladliji Ka Mandir/Temple-The divine and most famous temple of Sri Radha Rani in the land of Braj.
Pila Pokhara- A sacred divine pond whose water took its golden yellow hue from the dip of Sri Radha Rani's hand.
Prem Sarovar- A sacred divine pond whose water resemples the nectar of pure love, is located on the outskirts of Barsana.