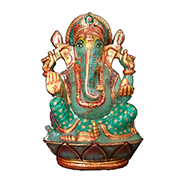 Ganesha, Ganpati Bappa or Vinayaka the son of Mata Parvarti and Lord Shiva is entrusted to be the Lord who removes every obstacle from life and blesses peace, prosperity, longevity, happiness and bright memory. Our Vedas have mentioned that semi precious or gemstones or quartz engraved with Ganesha multiplies the power and makes it holy for the house.
To feel the magnificent power you can buy them @ http://www.radhavallabh.com/radhakrishna-store/semi-precious-stone-c-54_259_288.html.
This is not just a write up but self experienced my friend a good hard working person but on receiving salary he use to loose all his money either in illness or in any unfortunate calamity no saving only debts followed him. We read somewhere in Vaastu book that keeping Jade Ganpati stops this problem. He bought them the very next day and placed them on a high placed altar. After two weeks when He received His salary he was able to save it, now Hari is enjoying promotion and peaceful life…
So my friends this incident does prove that our Mother Earth possesses the power to produce such divine stones that emit the power to uplift humans if combined with the power of Divine Lord Ganesha.