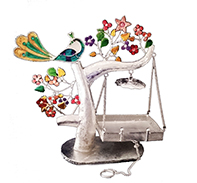 As rainy season arrives in Vrindavan mind visualizes dancing peacocks, Swings Jhulas moving on tree branches ,groves covered with floral lush and banks of yamuna hoarded with cattle. This season marks the arrival of the most auspicious festivals long awaited by all hearts Janmashtami and Radhashtami.
Streets filled with crowds buying items for festival and Palna or Jhula or swing is the most top priority for every soul. Buy Laddugopal Jhulas Palnas Swings @ http://www.radhavallabh.com/radhakrishna-store/god-swing-jhula-c-54_289_201.html .
Whenever a kid is born he or she is placed in cradle similarly everyone places their lord Laddu gopal or Sri Radha Krishna Or Sri Krishna on Jhula Swings and relive the moment of His birth on the day of Janmashtami and Sri Radha on Radhashtami.