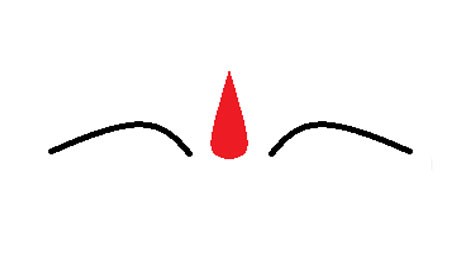 In our Holy Hindu rituals tilak has a special place before any pooja is performed. Tilak is put on head or you visit a temple in any holy place it signifies you just visited a holy place. A line of Chandan or roli or Kumkum moves from below to upwards on forehead has been descending from ages and got its existence from Divine itself.
If we read any Hindu scripture tilak on the forehead of Lords and patravali on Devi Mata's forehead is thoroughly mentioned in every description. Tilak or Patravali has spiritual and scientific reason behind its existence. Spiritually it is believed all our stars reside on the forehead by applying tilak on head it enhances the power of the stars blesses more fortune and helps us to increase concentration. Scientifically our head is the house power of our system and stress by applying Chandan it reduces body heat whereas Kumkum is made of haldi or turmeric if applied it has medicinal properties.Pure chandan or Sandalwood powder appears like this in color https://www.radhavallabh.com/radhakrishna-store/pure-superfine-sandalwood-powder-p-1118.html 
Thus Tilak and patravali till date holds a special place in our culture. You can apply it in fashion or tradition but it's beauty will always be legendary.
Summary
Reviewer
Radha Krishna Spiritual Portal
Review Date
Reviewed Item
Author Rating